Welcome! An additional side in Canada: http://karen4.com/Valentin/
This is a desperate plea for help for my son Valentin who is just four!

A Fundraising campaign to finance several surgeries for Valentin.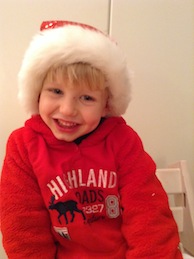 Valentin is four years old and needs your help. He suffers from a very rare congenital malformation of the hip/thigh called PFFD (Proximal Femoral Focal Deficiency) .Only between five and ten children are born with PFFD each year in Germany. It concerns a defect at the end of the thigh bone closest to the hip whereby it is too short or not completely developed. Valentin is an intelligent and happy boy who at the moment is managing with an Orthoprothese which enables him to keep up with his peers at the kindergarten. In fact he is quite fast on his feet .
However Valentin needs several difficult and expensive surgeries. Dr. Dror Paley is internationally recognized for his expertise in limb lengthening and reconstruction. What has been happening: Valentin's cartilaginous hip joint could be separated and with parts of his own bone fixed at the right place. For Valentin a hard thing, because he had to wear a heavy metal construct, which was fixed with pins on his hip joint for nearly five months, a big ordeal for such a small boy.
As long Valentin is growing 10-12 more operations will be necessary to extend the femur. The cost of the first surgery and the travel expenses costed around 120,000 Euros.
It is with great anxiety that Valentin's Mother Martina Brand has been managing this journey completely alone for the last four years. "It has been difficult for me to ask for help but nevertheless I must fight for the best possible care for my son! It is our only chance" says the single mother. Martina is a certified graduate in business management, her health insurance is not financing Valentin's surgery in the USA. The situation is very depressing.
Can you help by making a donation?
Any amount large or small is needed and will be deeply appreciated.